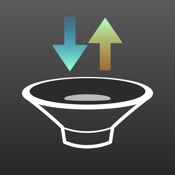 A sound file manager with powerful import and export abilities. If you are using music-making apps, then this tool is a must-have! "If you make music with an iDevice, you need this app. It just makes sense." – smitematter.com "AudioShare is a Must Have App for musicians, a Killer App!" – apps4idevices.com
Organize all your soundfiles and midifiles on your device. Record, trim, convert, normalize, transfer, export, import, zip, unzip. Create folders, rename and move files and folders around, put everything where you can find it.
Built-in Inter-App Audio host with 4 node slots. Record Inter-App Audio compatible instruments and effects, or process files through the chain! AudioShare is also a node itself that can be used in other hosts like Garageband or Auria.
Use it to transfer files between apps and between your device and computer. For example, transfer your new track from your favorite music-making app and import into the AudioShare library, then share it on your SoundCloud account, or transfer it into other apps. Or record your live-jam from other Audiobus-apps.
You can record directly in the app, from hardware, Inter-App Audio, or other Audiobus compatible apps. Preview and play soundfiles with waveform display and looping, trim and normalize soundfiles, and convert to other file formats.
© 2012 Jonatan Liljedahl